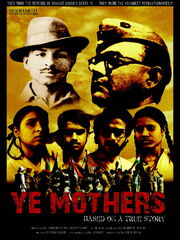 How can you help? By editing pages, of course.
BFS Wiki Team
Edit
We are film maker under banner Siddharth Motion Pictures we are producing Historical & educational films on India. Recently we have produced a feature film titled "YE MOTHERS" a true story based on the lives of two teenaged shool going girls from Bengal SHANTI GHOSH (13) & SUNITI CHAUDHARY (13) those played an extra ordinary role in freedom movement on India during 1931.
When Bhagat SIngh Rajguru And Sukhdev hanged on 23 March 1931 in Lahore Jail the little girls decided to take revenge of three martyrs and ultimately they respond it without fear and hesitation on 14th December 1931 they killed a British Collector of Comilla (now in Bangla Desh) CGB Steven at his bungalow in broad day light. Their juvnile offence (both of them were 13 years old) spared them capital punishment and after serving the awarded terms in Alipore Jail Kolkatta. They resumed their studies and Shanti Ghosh become MLA from West Bengal Asembly 1952 to 1968 continously 16 years and Suniti chaudhary become an MBBS doctor.
We wish to screen this film at your club more details log on www.yemothers.blogspot.com
Regards
Haripal Singh, Producer, Siddharth Motion Pictures 09958300282
Ad blocker interference detected!
Wikia is a free-to-use site that makes money from advertising. We have a modified experience for viewers using ad blockers

Wikia is not accessible if you've made further modifications. Remove the custom ad blocker rule(s) and the page will load as expected.